Shows
2017
'SUN AND MOON GODDESSES OF THE WORLD'

I am very excited to be creating an exhibition in Glastonbury during the Goddess conference this year. 1st - 6th August www.goddessconference.com

The exhibition, open to all, is in the Miracles Room in the courtyard, 2-4 High Street.

Please come and enjoy this colourful exhibition and beautiful sacred space to celebrate and honour Goddesses of the world.

The space and artwork will reflect the cyclic nature of Goddess....bringing night and day as the world turns. There will be paintings, writings and music exploring Her as Sun and Moon Goddess as perceived in worldwide spiritual traditions, folklore and storytelling.
This video shows Wendy's exhibition at The Goddess Conference in 2011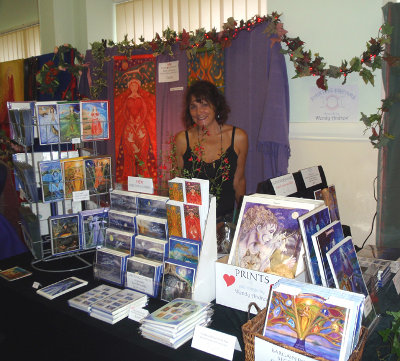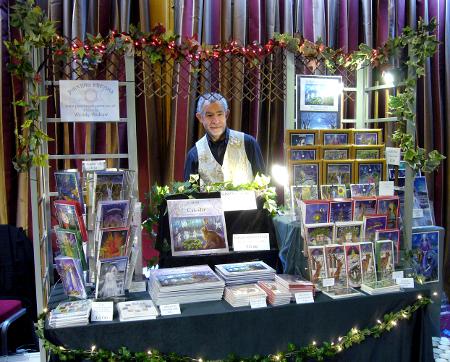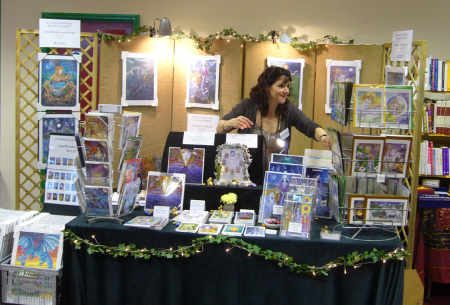 In 2016, I exhibited my work at:
Witchfest International in Brighton Sat. 26th Nov
"Winter Fairytales" at Obsidian Art, Aylesbury, 4th November - 31st December 2016
In 2015, I exhibited my work at:
Solo Exhibition in Glastonbury called 'Stillness and Stars' In the Miracles Room (The Courtyard off the High Street) 28th July - 2nd Aug
Obsidian Art Old Risborough Road, Stoke Mandeville, Aylesbury HP22 5XJ, 21 August - 13 Sept 2015 This will be a WONDERFUL show! It is Hannah Willow's show and she has invited a fabulous group of artists to join her...One not to be missed!
In 2014, I exhibited my work at:
In 2013, I exhibited my work at:
"Winter Moon Wonders" at Obsidian Art, an exhibition with lots of wonderful artists including Hannah Willow, Flora McLachlan & Tamsin Abbott, Jackie Morris, Caroline Hyde-Brown, Mark Duffin, Phil Holmes, Rachel Wright, Sue Rawley, Yve Sturgeon, Casey Jon & Louise Firchau (aka Paper Panda). Obsidian Art, Bucks (http://www.obsidianart.co.uk)
8th Nov - 5th Jan 2014
'Witchfest International', Croydon (http://www.witchfest.net/wf_international.htm), 9th Nov
In 2012, I exhibited my work at:
In 2011, I exhibited my work at:
In 2010, I exhibited my work at:
Obsidian Art, Layby Farm, Old Risborough Road, Stoke Mandeville, Bucks, HP22 5XJ (www.obsidianart.co.uk), 11th Feb - 14th March
Goddess Conference, Glastonbury (www.goddessconference.com), 28th July - 1st Aug
Pagan Federation Conference, Blackburn Hall, Rothwell, Leeds, 25th September
Witchfest International, Fairfield Halls, Croydon (http://www.witchfest.net/wf_international.htm), 6th November
Obsidian Art - 'Winter Wonders', The Bucks Goat Centre, Layby Farm, Old Risborough Road, Stoke Mandeville, Bucks, HP22 5XJ (www.obsidianart.co.uk), 4th November - 2nd January
In 2009, I exhibited my work at:
In 2008, I exhibited my work at:
In 2007, I exhibited my work at:
In 2006, I exhibited my work at:
The Sunrise Solstice Festival
Goddess Conference, Glastonbury, Somerset
Society of Pagan Arts, Ludlow, Shropshire
Faery, Angel & Healing Fayre, St Johns Hall, Penzance, Cornwall
Witchfest International, Fairfield Halls, Croydon, South London
In 2005, I exhibited my work at:
In 2004, I exhibited my work at:
Clun Green Man Festival, 31 April - 4 May (www.clun.org.uk/greenman/index.htm)
Witchfest England, Croydon 8 May (www.witchfest.net)
The Wessex Gathering (Pagan gathering in the Purbecks, Dorset) 4 - 7 June (www.witchcraft.co.uk)
Witchfest Wales, Cardiff 12 June (www.witchfest.net)
Dorset Art Week, Shaftesbury Arts Centre, Dorset 29 May - 13 June (www.dorsetartweek.com)
British Visionary Artists Group annual exhibition, Fairfield Halls, Croydon 14 - 19 June
Glastonbury Festival 25 - 27 June. Brigit shrine in King's meadow
Goddess Conference, Glastonbury 28 July - 1 August (www.goddessconference.com)
'Battle of Camlam' show, Tintagel, 6 - 8 August
Studio 13, Castle Cary, Somerset 1 - 30 September
Two of my paintings, 'Cerridwen' and 'Samhain' were hung in The Goddess Temple in Glastonbury during Samhain.
Witchfest International, Croydon 6 - 7 November
In 2004, my work was featured in:
Witchcraft and Wicca magazine
The Cornish Pagan Wheel Magazine
On HTV in a programme about witchcraft, 'The Magick Eve'
Goddess oracle cards and Unicorn oracle cards compiled and written by Doreen Virtue
In 2003, I exhibited my work at:
The Goddess Conference, Glastonbury 30 July - 3 Aug
Witchfest-UK at the Fairfield Halls, Croydon 8 Nov
Pagan Federation Annual Conference at the Fairfield Halls, Croydon 29 Nov
Yvonne Fairs (Body, Mind & Spirit Show) at The Leisure Village, Kettering 6 - 7 Dec