Shows
Please see below a list of my past shows and some photos and a video from some of those shows.
This video shows Wendy's exhibition at The Goddess Conference in 2011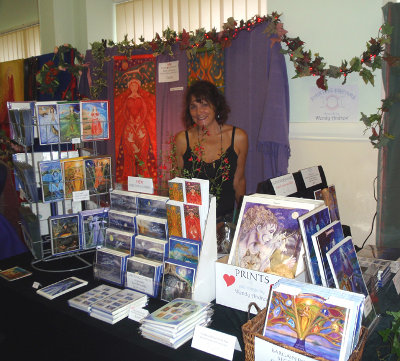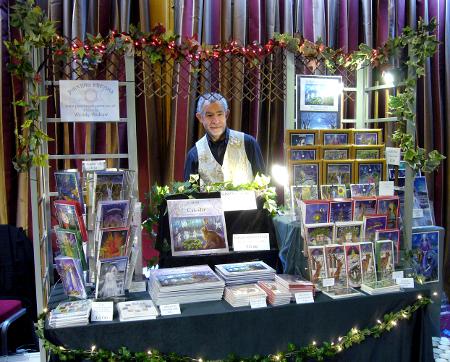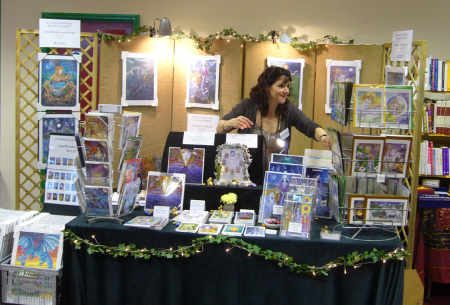 In 2019, I exhibited my work at:
'Enlighten', Goddess Conference, Glastonbury, 30th July - 4th August 2019
In 2017, I exhibited my work at:
'SUN AND MOON GODDESSES OF THE WORLD', Goddess conference, Glastonbury, 1st - 6th August 2017
In 2016, I exhibited my work at:
Witchfest International in Brighton Sat. 26th Nov
"Winter Fairytales" at Obsidian Art, Aylesbury, 4th November - 31st December 2016
In 2015, I exhibited my work at:
Solo Exhibition in Glastonbury called 'Stillness and Stars' In the Miracles Room (The Courtyard off the High Street) 28th July - 2nd Aug
Obsidian Art Old Risborough Road, Stoke Mandeville, Aylesbury HP22 5XJ, 21 August - 13 Sept 2015 This will be a WONDERFUL show! It is Hannah Willow's show and she has invited a fabulous group of artists to join her...One not to be missed!
In 2014, I exhibited my work at:
In 2013, I exhibited my work at:
"Winter Moon Wonders" at Obsidian Art, an exhibition with lots of wonderful artists including Hannah Willow, Flora McLachlan & Tamsin Abbott, Jackie Morris, Caroline Hyde-Brown, Mark Duffin, Phil Holmes, Rachel Wright, Sue Rawley, Yve Sturgeon, Casey Jon & Louise Firchau (aka Paper Panda). Obsidian Art, Bucks (http://www.obsidianart.co.uk)
8th Nov - 5th Jan 2014
'Witchfest International', Croydon (http://www.witchfest.net/wf_international.htm), 9th Nov
In 2012, I exhibited my work at:
In 2011, I exhibited my work at:
In 2010, I exhibited my work at:
Obsidian Art, Layby Farm, Old Risborough Road, Stoke Mandeville, Bucks, HP22 5XJ (www.obsidianart.co.uk), 11th Feb - 14th March
Goddess Conference, Glastonbury (www.goddessconference.com), 28th July - 1st Aug
Pagan Federation Conference, Blackburn Hall, Rothwell, Leeds, 25th September
Witchfest International, Fairfield Halls, Croydon (http://www.witchfest.net/wf_international.htm), 6th November
Obsidian Art - 'Winter Wonders', The Bucks Goat Centre, Layby Farm, Old Risborough Road, Stoke Mandeville, Bucks, HP22 5XJ (www.obsidianart.co.uk), 4th November - 2nd January
In 2009, I exhibited my work at:
In 2008, I exhibited my work at:
In 2007, I exhibited my work at:
In 2006, I exhibited my work at:
The Sunrise Solstice Festival
Goddess Conference, Glastonbury, Somerset
Society of Pagan Arts, Ludlow, Shropshire
Faery, Angel & Healing Fayre, St Johns Hall, Penzance, Cornwall
Witchfest International, Fairfield Halls, Croydon, South London
In 2005, I exhibited my work at:
In 2004, I exhibited my work at:
Clun Green Man Festival, 31 April - 4 May (www.clun.org.uk/greenman/index.htm)
Witchfest England, Croydon 8 May (www.witchfest.net)
The Wessex Gathering (Pagan gathering in the Purbecks, Dorset) 4 - 7 June (www.witchcraft.co.uk)
Witchfest Wales, Cardiff 12 June (www.witchfest.net)
Dorset Art Week, Shaftesbury Arts Centre, Dorset 29 May - 13 June (www.dorsetartweek.com)
British Visionary Artists Group annual exhibition, Fairfield Halls, Croydon 14 - 19 June
Glastonbury Festival 25 - 27 June. Brigit shrine in King's meadow
Goddess Conference, Glastonbury 28 July - 1 August (www.goddessconference.com)
'Battle of Camlam' show, Tintagel, 6 - 8 August
Studio 13, Castle Cary, Somerset 1 - 30 September
Two of my paintings, 'Cerridwen' and 'Samhain' were hung in The Goddess Temple in Glastonbury during Samhain.
Witchfest International, Croydon 6 - 7 November
In 2004, my work was featured in:
Witchcraft and Wicca magazine
The Cornish Pagan Wheel Magazine
On HTV in a programme about witchcraft, 'The Magick Eve'
Goddess oracle cards and Unicorn oracle cards compiled and written by Doreen Virtue
In 2003, I exhibited my work at:
The Goddess Conference, Glastonbury 30 July - 3 Aug
Witchfest-UK at the Fairfield Halls, Croydon 8 Nov
Pagan Federation Annual Conference at the Fairfield Halls, Croydon 29 Nov
Yvonne Fairs (Body, Mind & Spirit Show) at The Leisure Village, Kettering 6 - 7 Dec