'Luna Moon Hare' - A Magical Journey With The Goddess
Click image for enlargement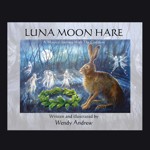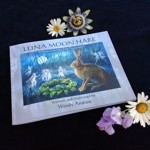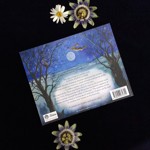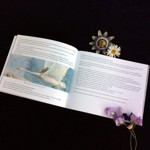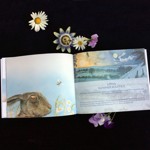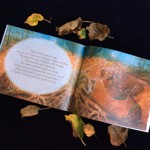 £8.99
Please note that orders going to EU countries are now liable for local VAT where applicable. All overseas orders may be liable for customs charges and / or a courier handling fee. These charges will be normally requested by the local courier and will need to be paid prior to delivery.
Luna Moon Hare is now produced as a soft cover book.
As the moon waxes and wanes it is reflected in the eye of a hare. 'This is now and this was then and this is Luna Moon Hare.'
She follows the magical way of The Goddess on her cyclic journey through the seasons, helped, guided and challenged by mythical creatures, totem animals and faeries.
Wendy Andrew's enchanting illustrations and lyrical words offer a subtle and yet profound insight into the magical world in which we live.
Some passages from the book:
Once upon a cold January night, the white Wolf Moon is shining in a bright hare's eye. This is now and this was then and this is Luna Moon Hare. The path that she walks is white with snow. The world is cold and still. Luna's paw-prints mark her journey as she carries the holly crown through the winter stillness. She has travelled above, below and beyond and has seen the Cold Moon scatter diamonds on the frozen land.
The snow, now a blizzard, sweeps around her, stinging her eyes, blinding her, swirling, whipping whirl-winds, spinning, white light, floating, rushing air. She is swept off her feet. She feels like she is flying! She IS flying! She is riding on the back of a great white swan. In the rushing air of the sweeping wings she hears the words. "Remember, you are never alone".
The rhythm of the flying swan lulls Luna into deep sleep.
"Welcome back, Luna. I am Morgan La Fey. You have passed through the thin veil between the worlds and have journeyed well. My crow sisters and I will watch over you as you travel, and the wheel turns."
She stretches out her arm and it makes a path to forever...