Customer Feedback
Here are just some of the wonderful things that people have said.
Thank you all...it means SO much to me...
With brightest Blessings
Wendy
If you would like to add your own feedback about artwork purchased from Wendy Andrew, please send an email to feedback@paintingdreams.co.uk
Many thanks Helene and Edward for sharing this picture of your Harvest Goddess banner in situ for your handfasting ceremony at a small vineyard in Yorkshire called Dunesforde. It took pride of place by their harvest supper dressed with dahlias and ears of corn.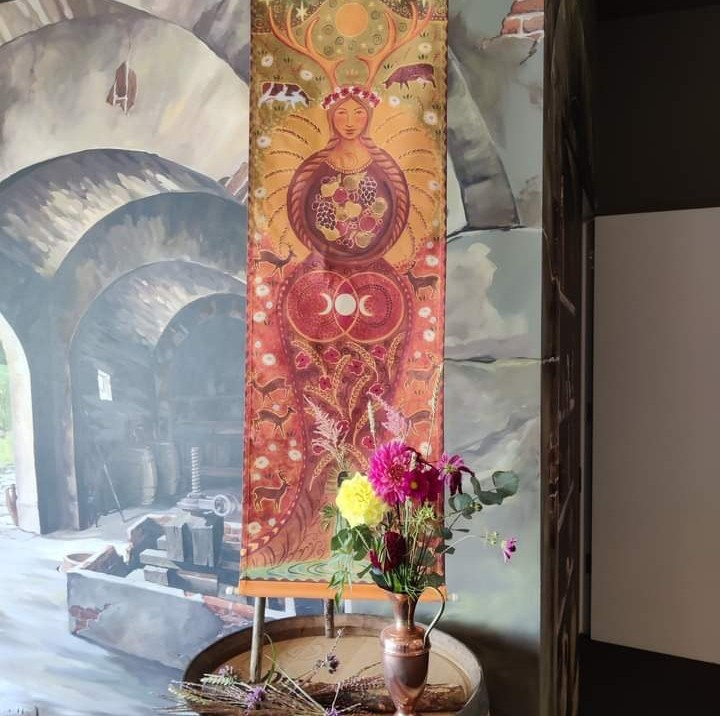 Thank you Alison to sharing this fabulous photo of your framed Folk Art Goddess cards. They look wonderful!


Dear Wendy
I have just bought all eight of the Folk Art cards: I decided to put them all together in the same frame (an A3 frame was a perfect fit), and I think they look so beautiful on my bedroom wall.
Best Wishes,
Alison x 🙏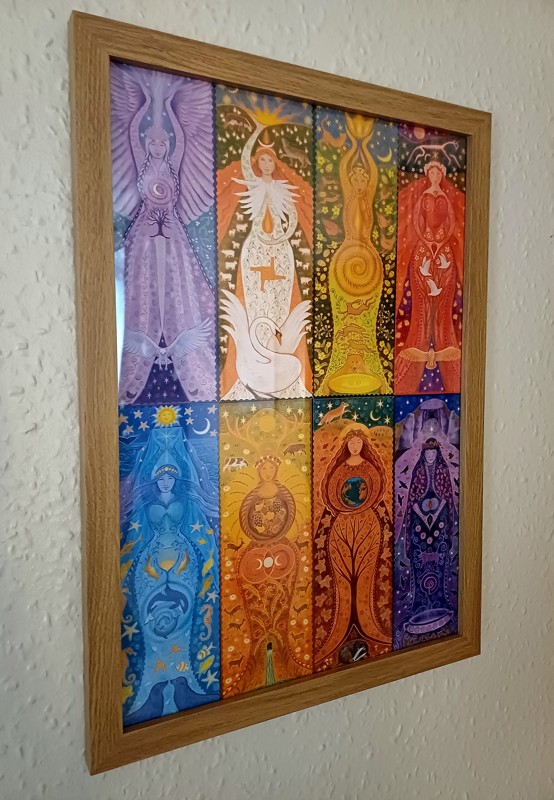 Just wanted to say that I ordered some cards from you for the first time recently, and I was so pleased with them when they arrived: Such beautiful artwork, and very good quality. I bought one for each of the eight festivals and plan to rotate them throughout the year. I also bought both sets of Goddess Oracle Cards which are stunning.
Take care x
Alison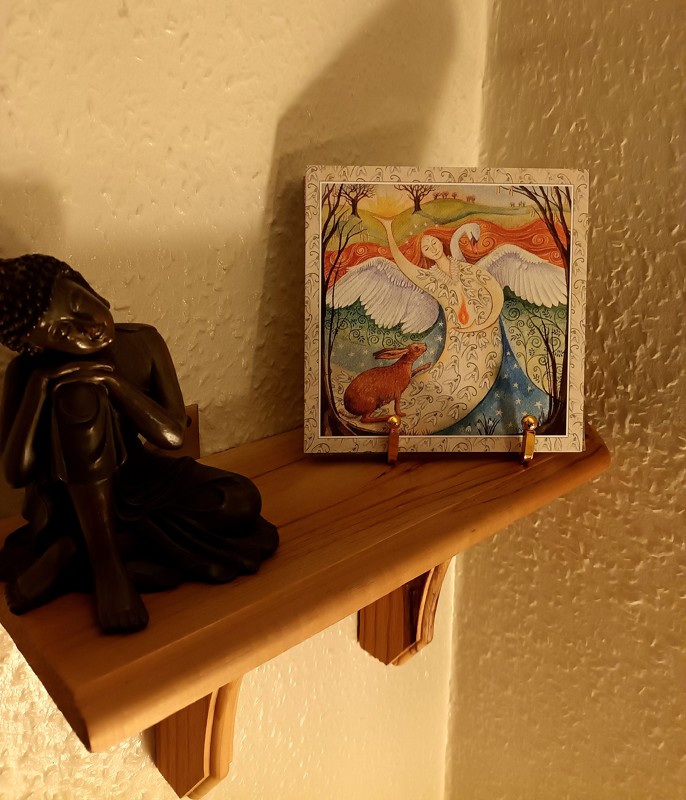 Thanks so much for my wall hanging! And the lovely card.
It's beautiful 🤩
Kate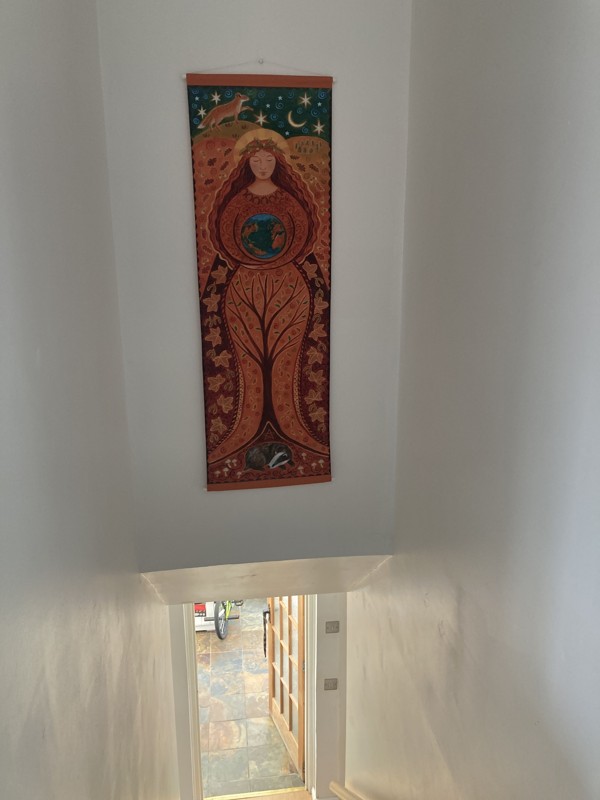 Dear Wendy
Thank you so very much for getting my books out to me so quickly, I bought one for a friends birthday but couldn't resist getting one for myself and I'm so glad I did! The books are absolutely delightful! The illustrations are so beautiful and I love the journey through the sabbats. I know my friend is going to love it too. Thank you also for the gorgeous card which is going straight into my witchy room. I'm definitely going to have a good look on your website for future purchases.
Brightest Blessings
Sharon
Dear Wendy,
Thank you for another prompt delivery of my order, full of such beautiful works of art. My cousin was delighted with the 2 winter cushion covers which I ordered the last time, so I've got 3 Spring ones for her (she is expecting her 3rd baby in May) and also 2 for myself! The Luna Moon Hare book is really enchanting. All the cards are superb. Thank you for the "Bright Inspiration" card, the book-marker and the sticker. Stay warm & cosy , and please continue with your excellent work.
Kind regards from Niamh
Thanks Helen for sharing these lovely photos of your framed prints!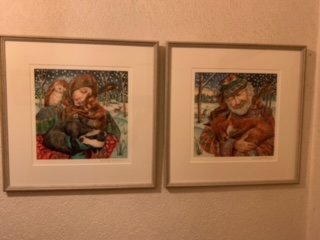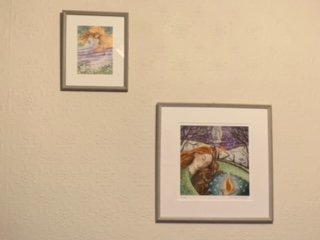 Thank you so much to Julia for sharing this photo of her 'Dreaming of Spring' cushion looking lovely in her sacred space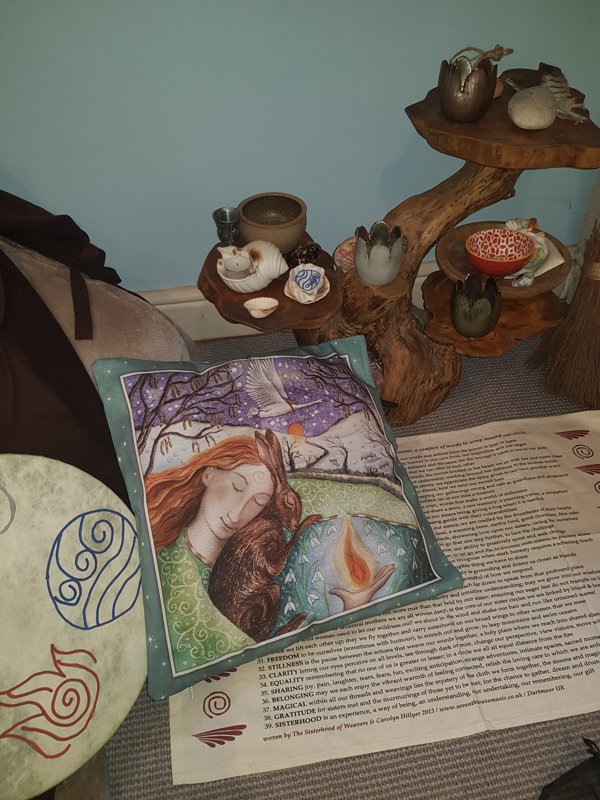 Thanks Helen for showing your beautifully framed print of 'Dreaming of Spring'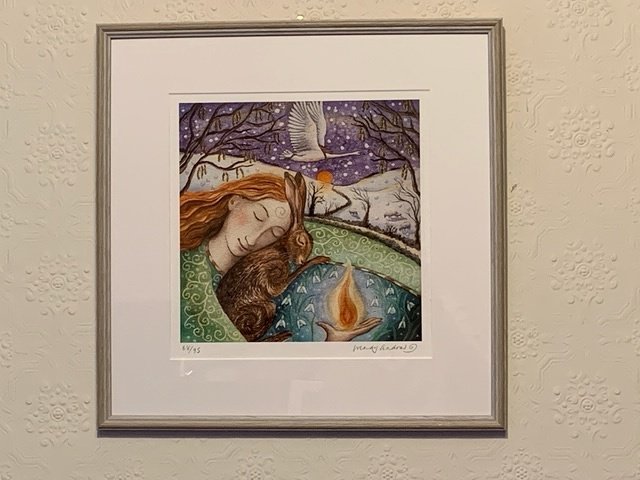 Hello Wendy
Just a note this morning to say how absolutely delighted I am with the calendar. I resisted the temptation when it first arrived to open it up and skim through the images. This morning I was able to give it the attention it deserves.
What a treasure trove of images you have provided, so rich in symbols and in symbolism. They give one little glimpses into the essence of each season.
Thank you, Wendy, and Happy New Year!
Ann
Thanks so much Annette and Ute for this lovely photo of your prints of 'In the Arms of Grace' and 'The Storyteller' They look so wonderful all framed up!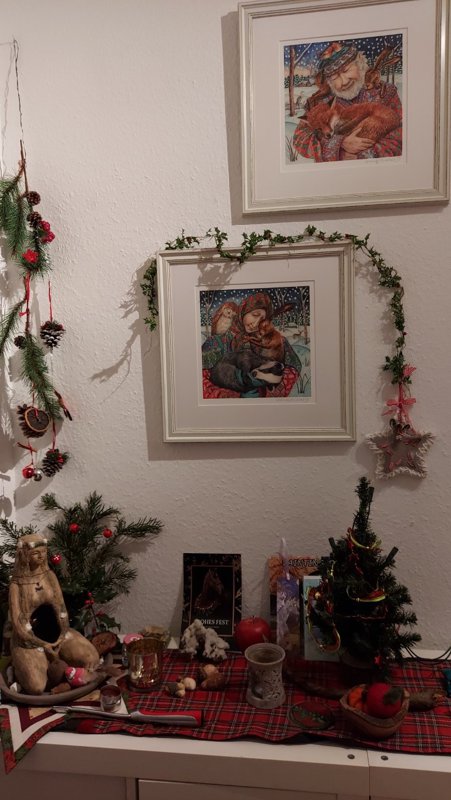 Thank you Sveva for sharing this lovely photo of your Grandmother Crone Goddess wall hanging in situ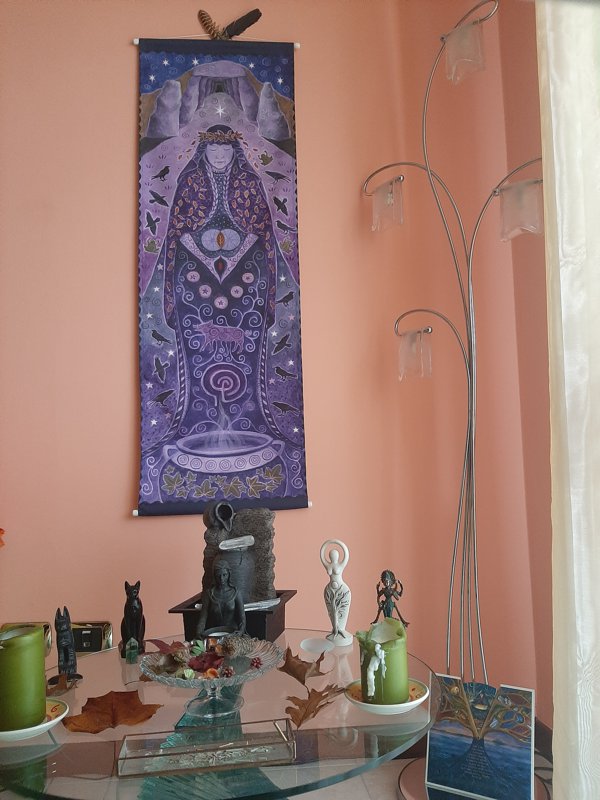 Hi Wendy
I've just received my calendar and just had ro message you because its absolutely amazingly beautiful. My favourite ever calendar i love your work anyway but this is outstanding in its beauty its inspiring . brightest blessings Karen
Hi Wendy,
Just received my calendar ~ it is beautiful!
Not just the images themselves, but the layout and everything is superb!
I will so much enjoy looking at this every day next year.
Congratulations.
...and thank you!
Dominie x
Hi wendy
My beautiful calendars arrived today, just exquisite the combination you have thoughtfully put together, my friend will love it too, I buy one every year for her too, she adores the hares.
Blessings again and thank you
Val x
Thanks to Norah for sharing this lovely photo of her beautiful room in Ireland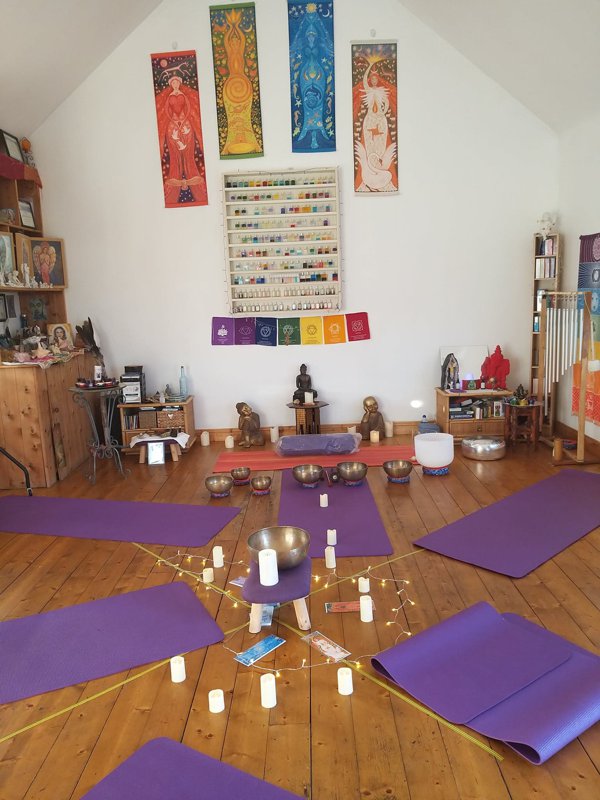 I've just bought your goddess oracle cards and wow they are marvellous and when I use them in my tarot work they are very well received and the images loved. The booklet is equally brilliant and just lovely, and I love what and how you have written about each card just wonderful. I'm no tarot reading expert, I'm just making my way and there are 1'000's of tarot readers all over the place now, your cards truly resonated with me and I feel very confident and at home using them and I just love looking at the very beautiful and detailed amazing true earth images anyway for myself
regards Stella x
Bea is loving her Goddess Dream Oracle!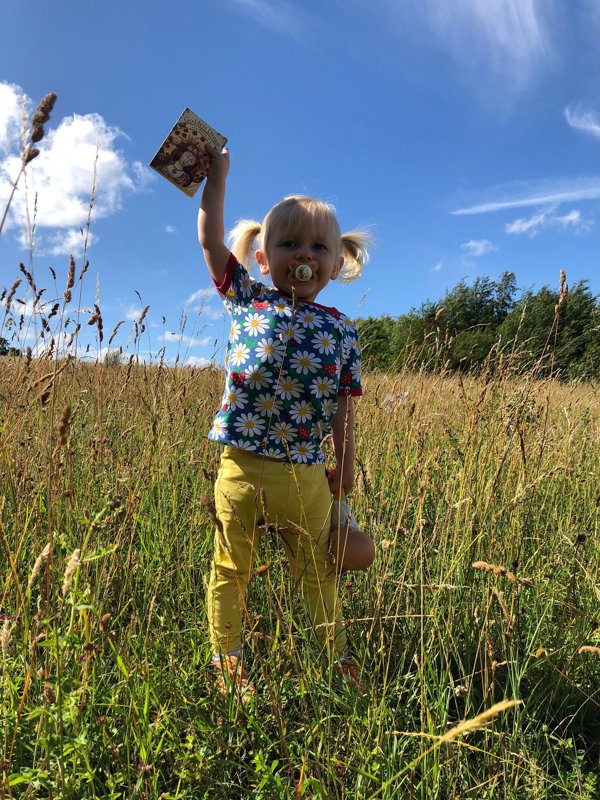 Dear Wendy,
Thank you so much! I've just received my copy of Luna Moon Hare and it really is so beautiful. It's cheered me up no end and I can't wait to read it with my children.
Thank you as well for signing it for me ❤️.
Blessed be,
Sarah
Thanks so much Angela for sharing your photo of your Fire Goddess wall hanging. I am so happy that you are enjoying Her!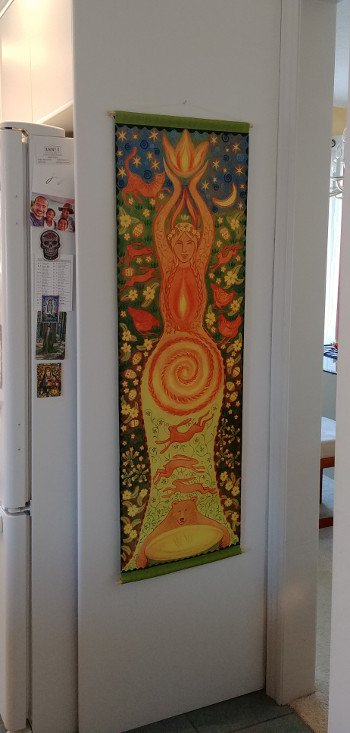 On a little search for a gift last month, the stall holder asked me to choose a card. I chose Insight and connected immediately with the message. I found your Goddess Dream Oracle cards so beautiful, I bought some on the spot.
I can't remember if I found a gift for my friend, though I definitely found one for myself, which I share with those around me!
I wanted to let you know how magical your art is and how deep and powerful the messages are.
Wishes and gratitude,
Tina
Having loved Wendy Andrew's work for a long time, I didn't hesitate to buy her Oracle deck. I am so excited about it. The pictures are a mixture of old and new material of Wendy and the associations with the pictures work perfect for me. I love how she has not actually named specific Goddesses, although I recognise most of them, but is working with the energy of Goddess in combination with the energy that emanates from the picture of the cards.
As always, Wendy's words are beautifully woven and spot on, capturing the message that needs to be heard in that moment. In short, I love my new Goddess Dream Oracle deck and look forward to using the cards in my ongoing journey with Goddess!
Marion Brigantia
Hi Wendy
I just wanted to express my gratitude for you putting together the Goddess Dreams Oracle. I absolutely love it and it has helped me so much already on my journey and as part of my self care. The artwork along with your lovely words really inspire me and help me feel better when I am sad. It makes me quite emotional with how beautiful it is and how helpful the Goddess advice is. Truly a masterpiece that I will treasure for years to come on my journey, thanks you so much.
Isabel
Hi Wendy,
I just wanted to say how truly lovely it is to have one of your calendars on display again! It was worth the wait and January has beautiful warm tones and such hope in it.
I was gifted your Goddess Dream Oracle for Christmas and it is SO beautiful. Even the backs of the cards are delightful. Now that the festivities are just about over I will settle down to work with it regularly.
Lastly, thank you so much for the beautiful Solstice Hare picture on your last email and for the paintings of your furry friends who both look super huggable! Wonderful heart warming scenes!
Wishing you a joyful and blessed 2020.
love,
Jan
Hi Wendy
I just had to reply back, I've been using your deck and am beyond excited, I simply cannot put it down it's soooo beautiful.
The messages have been absolutely spot on, I feel quite emotional with these images, you've added so much into them, they have real depth that I can really feel.
I find myself just going through them, they feel like a giant hug but still give honest direction and realistic comfort, it's perfect,
Plus your hares are stunning, as a wildlife photographer I've always tried to capture hares as they are one of my favorite animals and you've nailed that hug, that connection with them.
Plus the cardstock is perfect, love the finish of them too.
I simply can't be away from them for long, even the backs are stunning, your so talented your artwork is amazing.
Thank you so much for sharing these, I hope you have plans for more...maybe tarot, I couldn't get enough lol!
Thanks again
Cazi
The "Goddess Dream Oracle" cards have just been delivered via "Hermes". Thank you.
Beautifully packaged in a strong, good-looking box - always a bonus. I've laid them out & "WOW" is my first impression-- breathtaking! You are one very talented woman, Wendy. I shall spend many contended & fruitful hours connecting with & through them before I attempt to help any other who may come my way. I usually use Tarot Cards, so cards such as these are a "first" for me & I don't think I could have a more wonderful introduction.
Thank you.
Love from Lyn x
Dear Wendy, thank you so very much for the beauty that you bring into the world. My mother and I received our Goddess cards yesterday and we both love them so very much. In addition to the astounding beauty of your artwork, the guidance and wisdom of the cards are delightful. Looking forward to using them for many many years to com. Blessings, Angela x
Dear Wendy,
My calendar arrived today and I just wanted to say a warm and heartfelt thank you!
It is absolutely gorgeous and I know I will truly enjoy every day of every month seeing it grace my kitchen wall ❤️.
Wishing you well,
Kate Rose
Hi Wendy
Just wanted to send you a huge FAN HUGGLE to thank you for painting HARE HUGGLE. My sister had ordered this for me in the New Year after hearing me rave about it and I unwrapped it, with great excitement, on Monday morning (my birthday). It is truly divine. I am a hippy vegan/green witch who just happens to be in love with bunnies (and hares, but do not have hares, have house bunnies who are my babies) and your work just totally resonates with me. Cannot wait for my frame to arrive, it will have pride of place in my little coven.
Your other work is amazing too, but this just makes my heart sing.
Thank you
xx
Hello Wendy,
Your beautiful cards have arrived!!😊
They are so lovely. I am quite moved by your images and prose.
I have bought these just for me to look at and contemplate.
I shall treasure them.
Thank you so much.
Very best wishes
Robyn
Dear Wendy,
Your parcel arrived safely today and one wall hanging (the earth goddess) has already found it's place and looks simply wonderful:-)
(The Crone is for winter time). I wanted to be in Glastonbury last week to celebrate my birthday but I had to postpone my visit so I thought I get myself at least a wonderful present instead - I greatly admire your work Wendy, it's just a joy to look at it (I already have your Wheel of the year and some postcards and will certainly order another wall hanging:-)
Thank you!
Best wishes
Sabine
)O(
Thank you Greet for this lovely photo of your Goddess altar.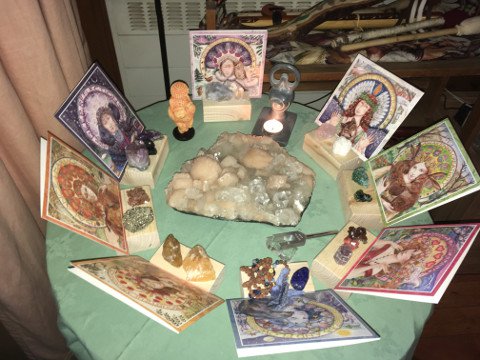 Dear Ms. Andrew,
I just wanted to inform you that my order has arrived today, safe and sound, and the cards I purchased are beyond beautiful: such marvelous detail! So, again, thank you for your wonderful art and for sharing it.
Your cards will spread words of love along the Mediterranean coast and I'm sure will be very much admired :-)
Blessings and Happy Yule,
Anaïs
Hi Wendy,
Your book is even more beautiful than I could have imagined. Absolutely stunning.
A real story to be read and told.
I am sorry I never found your book before now.
Thank you again.. I can't stop looking through it, it's magic!
Thank you so much.
Kind Regards
Linda x
Hey Wendy,
My order arrived yesterday. I was sooooooo happy. Awesome art work 🙏🏻 I love the wheel and my friends will love their wheels too.
Thank you so much. Be blessed.
Kind regards
Antje
Many thanks to Noro for this stunning photo of his Lord and Lady of the Wildwood wall hangings!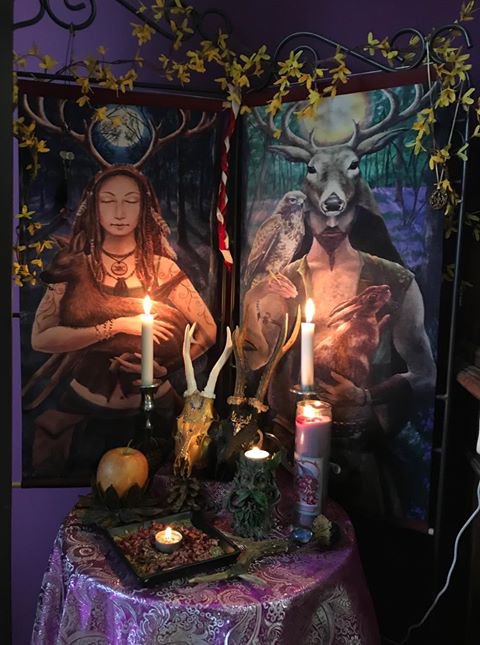 Thanks Yolanda for this lovely photo.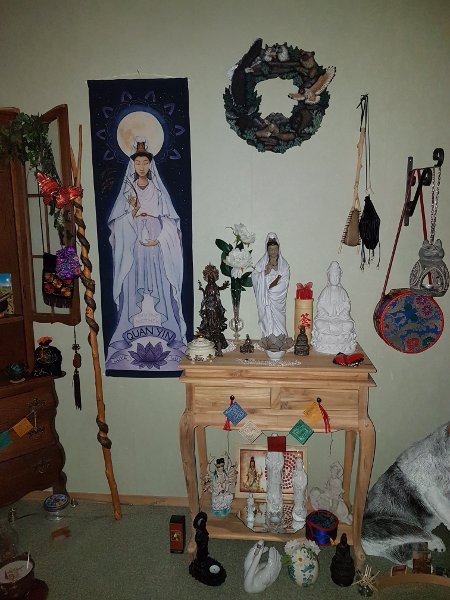 Dear Wendy,
Just wanted to say how beautiful your book "Luna Moon Hare" is. What a gift you have! Your paintings are enchanting, they show how much pleasure can be had from nature and the myths that help us to enjoy the seasons and festivals, your magical and skilful interpretations of the natural world are so beguiling. I shall certainly treasure "Luna Moon Hare" - and the "Dreaming of Spring" card which I love.
With thanks,
Winifred
Hi just a quick email to say how pleased we are with the wall hangings of Lord and Lady of the Wildwood. I bought them as Yule presents for myself and my husband.
They look fantastic!
Many thanks, Cathy and Dave Belford.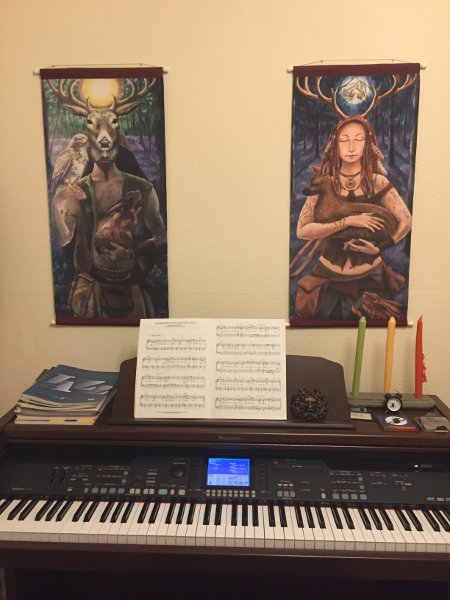 I have almost finished reading your book Luna Moon Hare and felt that I must write and tell you what a lovely book it is.
The illustrations are amazing, I have never enjoyed reading a book as much as I am this one for a long while.
The book is truly wonderful and will always be treasured.
Thank you
Hi Wendy,
The Wall Hanging arrived today. Thank you very much, it is very lovely. And already on my wall :-) as you can see on the photo I included.
I am sure I will order more of your beautiful Wall Hangings.
Love & Light
Christine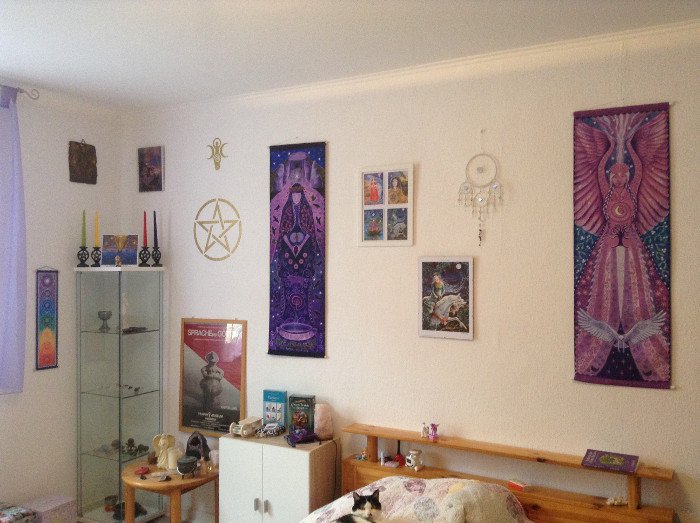 Hi Wendy,
Just wanted to say the book arrived today and certainly didn't dissapoint. The illustrations are absolutly gorgeous, what a talent you have, and thank you for the inscription, a lovley touch.
A delighted customer
Richard x
Hi Wendy
Your book is really really lovely - a book to treasure forever.
Thank you so much
Jo
Thank you for my fabulous CD, I loved it! My son who is 11 has also listened and enjoyed it. It was very relaxing and truly wonderful to be taken on such a fantastic journey with the Luna Hares.
Kind regards
Julie
Thanks Michele for sharing this photo of the sacred space created for a Yule ceremony with Goddess banners on the walls!...beautiful!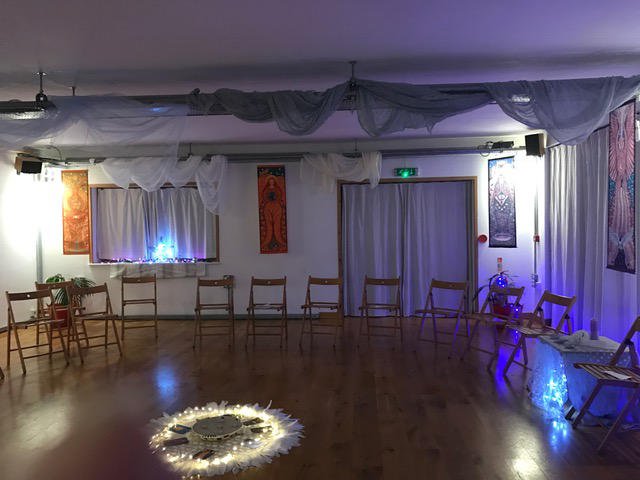 Thanks Chinami for the lovely photos showing her Goddess wall hangings with the beautiful altars she has created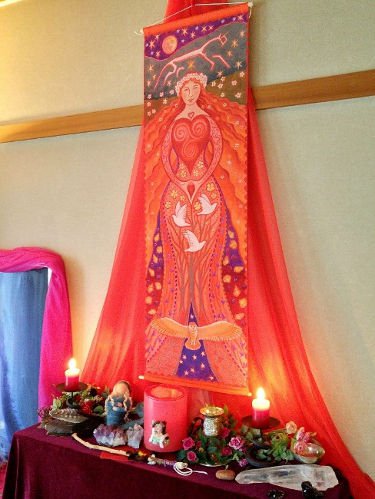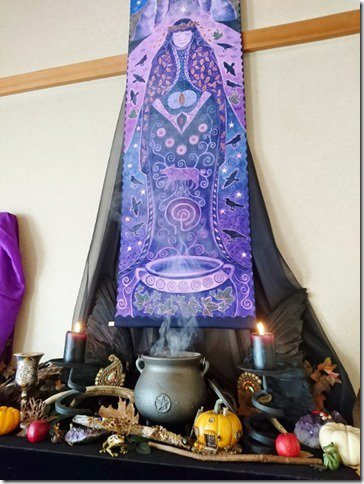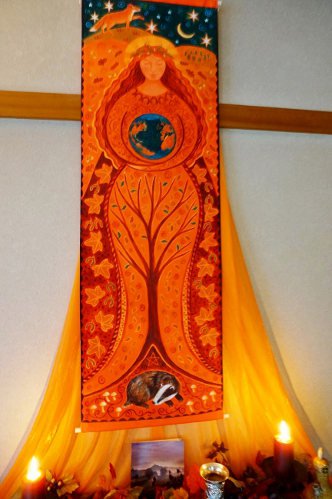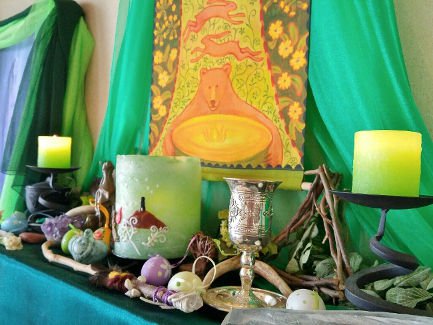 Thanks Jan for these lovely photos showing her Goddess wall hangings in her cedar roundhouse. Wonderful!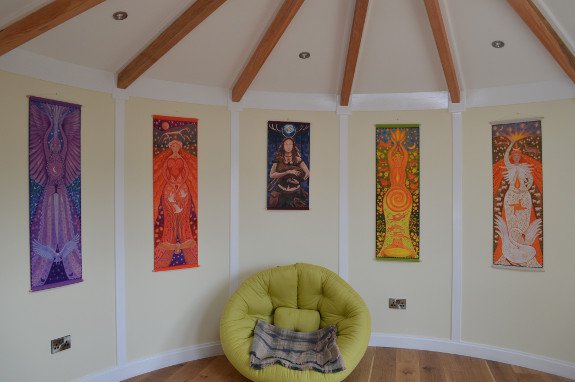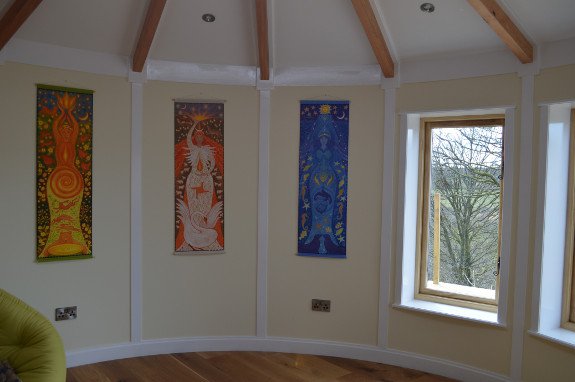 Dear Wendy
Just to thank you for the beautiful inspirations you share with us. This picture is in my sanctuary or sacred space. It's actually a BBQ hut, but with a solar pipe instead of the grill. I have 5 of your hangings , one in each of the quarters, plus the crone. I also have some of your prints there, Nuit, Sige and Andraste. This is my place of worship, contemplation and workings. The shape of the hut with your beautiful designs support me and provide me with everything I need. The hut was a gift to me on my retirement , I know I am so very lucky. The picture doesn't do justice to your work, but I hope it reflects how much it is loved and valued. Thank you.
Brightest blessings. Georgie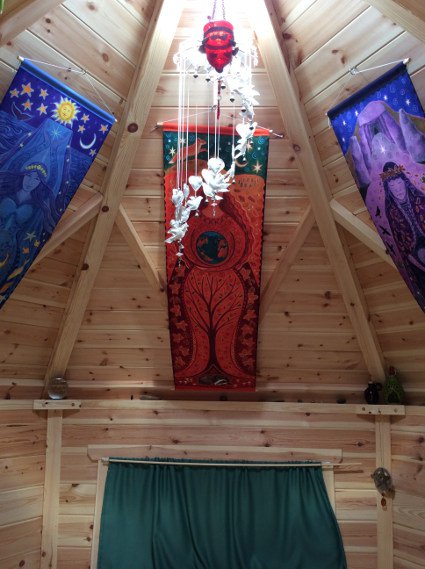 Hi Wendy,
I have just received the wall hanging with the Crone goddess, it is even more beautiful than I had thought! Thank you so much for making it! I am very moved by her new presence in my home and I will enjoy her very very much.
Have a nice weekend,
Delphine
I received these wonderful cards, much loved now by many friends. But for myself, I made a collage in a frame and it's hanging on the wall by the fire looking very festive. I absolutely love this, thank you so much.xx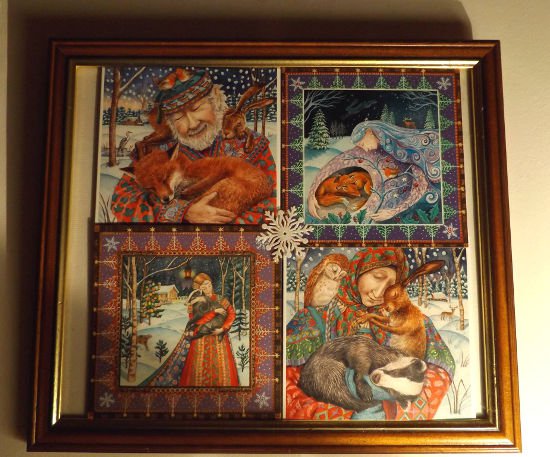 Hello Wendy!
I just want to take a moment to send you my heart-felt THANKS for a signed copy of your amazing Luna Moon Hare book. It arrived safe and sound along with the beautiful yule card set a few days after you had dispatched it.
While I find the cards truly amazing, I think the book is pure magic! I read it in one take after a particularly exhausting day, and it brought me right back to earth with its wonderful imagery and beautiful story-telling.
Thank you once again, and keep up the good work :)
Bright blessings and a merry Beltane to you,
Zsófia
Hi Wendy
My copy of Luna Moon Hare arrived today. Thank you for despatching it so promptly.
Although I have seen reviews of the book and examples of your wonderful artwork, I am absolutely enchanted by this book. The way the story journeys through the season is just perfect and the art is entrancing. I am so looking forward to sharing it with my granddaughter when she is a little older but, in the meantime, I intend to guard jealously and read it often!
Thank you so much for bringing such a lovely work into being
Bright Blessings
Karen
A spectacular Calendar with the most exquisite artwork.
It has everything in it that a Pagan could wish for. It gives you all the main Festivals of the year and also the phases of the Moon.
At the end of each page/month, there is a little paragraph giving you a mantra for the month. It is nice to be able to buy British Calendars for Pagans.'
Blessings
Marysia
Hi Wendy,
Thankyou so much for the beautiful calendar. I love it!
Your paintings help me to feel calm and peaceful and remember that we are part of everything!
Thankyou :)
Rachel
Thank you wendy, The cards arrived quickly, its great that you are so reliable. I really appreciate that. They are absolutely lovely, without fail you create enchanting magical images, I will send them to a few special people.
My lovely friend gave me the goddess wheel last Yule,and I shall treasure it always, the sense of wisdom calms and empowers at the same time.
thanks again
warm blessings
Trisha.xx
Hi Wendy ,
I received my cards yesterday (super quick),many thanks for that!
I have got to say that your paintings are absolutely beautiful, even more so in real life, I absolutely love British wildlife and feel all our animals are much maligned and persecuted and you have such empathy with these beautiful creatures, they deserve so much more and it really shows in your lovely paintings, I will treasure them, and be very proud to buy some lovely frames to hang them in.
I look forward to seeing more of your beautiful artwork in the future
Thank you
Lorraine
Dear Wendy,
Everything is arrived. Oh Wendy, I have no words to explain how I am impressed by your art.
Your new paintings are fantastic, and the calendar...
I don't know what magic you do, but it's like you can reach exactly what I feel and give it shapes and colours.
Me and Matti are so moved...it's fantastic...
Just in case...do you have any of the original available of your new paintings? Of the calendar or any other?
Thank you so much
Laura
Dear Wendy
I just wanted to drop you a line to say thank you for our beautiful wall hanging. It is the first thing I gaze upon in the mornings which is very grounding before I shoot off into the crazy world. It has given us so much enjoyment and I just wanted to let you know how much your work is admired.
Bright blessings Kate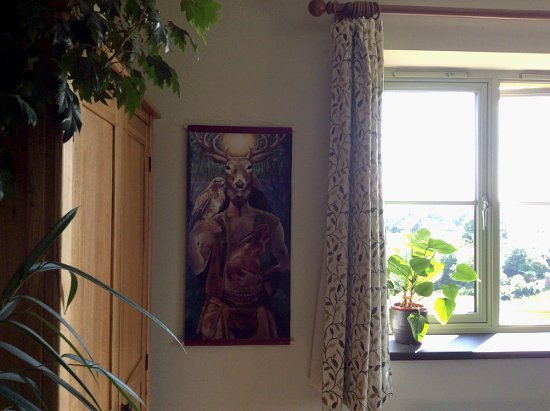 Hello Wendy,
That delivery was amazingly fast. I had the book and card the next day!
The particular painting of 'The Lord of the Wildwood' is my favourite portrayal of the god in any form. You have captured so many elements of him; strong, protective, caring and nurturing. and rather 'other' than a muscly human. I had one of these before but gave it to my niece to put on her altar. I think we shall both want the wall-hanging eventually.
The book is stunning. The story is a joy to read. Excellent for children, but also to meditate onl. I am particularly fond of your line ...'She stretches out her arm and makes it a path to forever...' The illustrations, of course, all all evocative of the Goddess and the turning of the year. My particular favourite is Imbolc, with the glorious Brigid.
As you can tell, I am very pleased with my purchase.
Long may you brighten the world and inform others about the Goddess with your works of art.
Blessings
Heather
Dear Wendy,
Thank you so much for the fast delivery of the book, this one is a gift for someone and I hope she loves it as much as I love my own copy. Your book is so beautiful, both the pictures and the words, I found it so reassuring during a difficult time. Wishing you a wonderful and creative 2014, thank you again for your magical book.
With very best wishes, Sarah.
Goddess fabric hangings in the classroom of the Goddess temple in Winterthur Switzerland.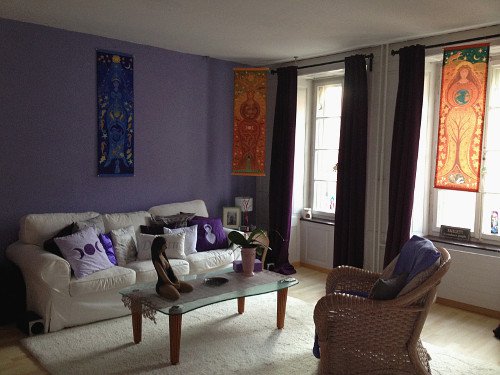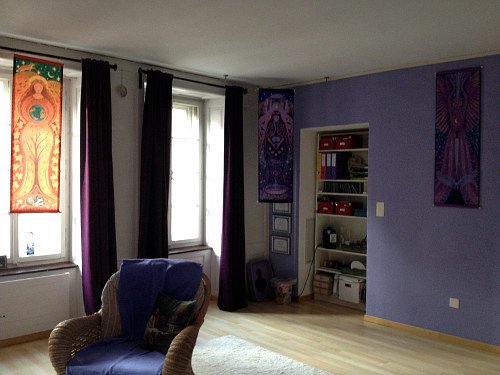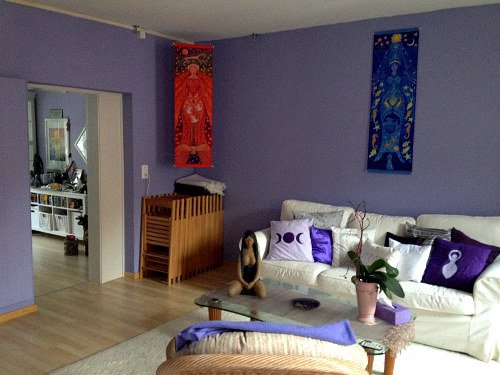 Dear Wendy,
Thankyou so much for sending me the cards so quickly. They are absolutely stunning and I know the friends and family who will receive them be enchanted by their ethereal beauty, as was I. Your work brings out a deep rooted emotion, a connection to Mother Earth that I sometimes feel I have not lost but miss in the hectic day to day routine of everyday life. Giving these cards to others I hope will share this connection and they will look upon them and feel the love and beauty in your work.
Again, many thanks,
Brightest Blessing,
Julie x
Hi Wendy
I apologise for not having sent this sooner but time seems to have evaporated. I just wanted to say thank you so much for getting my order out so quickly. I received it within 24 hours which was lovely. Everything was in top shape and the calendars are so beautiful as there is so much to see in them. I may have great difficulty parting with some of them for Christmas presents! So once again thank you.
All the very best
Patricia.
Hi Wendy,
What a lovely start to the day! I received your beautiful Folk Art Goddess cards this morning! Many thanks! I absolutely love them and will be framing them to take pride of place over my altar! Such wonderful detail, design and colours - perfect visual aids to connect with, and meditate on, each Goddess. Thank you also for the gorgeous swan and hare card too - such a nice touch. x
Sending love and blessings!
Maria x
Hi Wendy,
I just wanted to thank-you for sending the wall hangings so quickly after you returned from your holiday - they arrived safely and the packaging was superb. Thank-you also for the lovely card that you sent too - it was very much appreciated. The Goddess wall hangings are really beautiful and I'm amazed at the detail contained within each one of them. They each capture the energy and the sacredness of the Goddess in their own unique way.
With many thanks and best wishes,
Pam King
Hi Wendy,
My copy of Luna Moon Hare arrived this morning. It is a most beautiful book, which made me cry when I looked through it. The images are wonderful. Thank you. I learned about you when a friend gave me a Yule card, which I still have on display because I love it too much to put it away. Then I decided to buy some cards, but couldn't make up my mind which. The book will keep me happy.
Love and thanks for your great gift
Pat
Dear Wendy,
I just wanted to say thank you so much for my package, which arrived this morning as promised. Everything was so well wrapped and arrived safely.
Thank you too for the hand written card, that personal touch is and was much appreciated. I was not expecting the Luna Moon Hare book to be signed, as again, thank you for such a personal touch. This is the second copy I have bought, the first was for my niece, and I loved it so much that I had to get another one for myself.
The print of Luna with the swan is even more lovely than the image in the book, if that's possible, and I look forward to getting it framed and hung at the earliest opportunity.
I look forward to having some time later to listen to the CD and I hope that the Yule Hugs cards will result in smiles on the recipients' faces at Christmas. I have no doubt that I'll be back for more cards throughout the year - so I look forward to speaking to you in the future.
With kind regards and best wishes
Lisa
Dear Wendy,
Thankyou so much for creating such a beautiful website - and for sharing your vision - I'm finding it a truly inspiring experience! Today I received your exquisite Love Goddess wall hanging, the Goddess Wheel and the lunar calendar carefully packaged and made personal by your thoughtful handwritten cards - a real treat, and one which is blossoming..!
All love - Ramani x
Hi
Your card/ painting of the Hare and the Swan flying over the Tor inspired me to write....
Across the world
A string of pearls
Buried in the Land
Pearls of wisdom
Shifting in the sands
Of time below
The stars above
Create the shine
On pearls and
The backs of swans
The Tor stands firm and still,
The little hare sleeps on
Softly to Avalon..
Thanks so much Gail...beautiful!
Dear Wendy,
My Earth Goddess wall hanging found her way to me today and she is absolutely gorgeous. You can tell how much love and attention went into the painting. She was also wrapped up perfectly. The piece is stunning and will be treasured y my entire family.
I also love the Luna Moon Hare card you sent with the package. So adorable. My kids and I read Luna Moon Hare every time the wheel turns. We love looking at the pictures together.
I am looking forward to all of my future purchases! Thank you for sharing your creativity with us.
Blessed Be
Kim
Many thanks to Laura for sharing this lovely photo of her Goddess hangings at her wedding! Wonderful!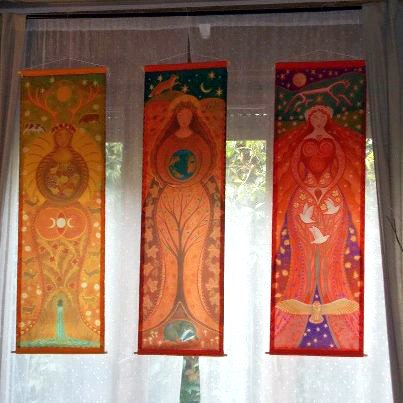 Sandra's Air Goddess fabric hanging looking beautiful with pretty faerie lights!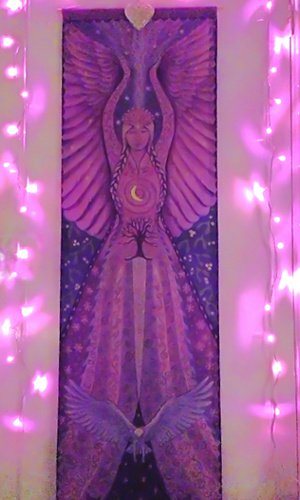 Hi Wendy, thank you for the beautiful items that arrived today so carefully packaged :)
I really do appreciate the personally written card you sent along with my order, it will be going into a frame when I find the right one for it. I am always so very chuffed with anything I order from you, it is such a pleasure to have your stunning creations in my home.
Thank you for your newsletters too.
Brightest Blessings to you
x Jane
Dear Wendy,

The wonderful cards I ordered have arrived today and they are even more beautiful & amazing than they look on the website. Thanks for the speedy delivery, much appreciated.
Bright Blessings, Nicola X
Hi Wendy ~
Received my CD yesterday and have just listened and enjoyed it sooo much, thank you for creating such a beautiful meditation.
Blessed Be,
Marilyn x
Wendy,
Thank you for the beautiful cd. An absolute treasure.
Bright blessings
Nicola
Dear Wendy
I just wanted to say that the book has arrived all safe and sounds, and thank you so much for the beautiful card - I will pass it on to the parents so that they can keep it for her. I sincerely hope that she will enjoy it and treasure it, as I treasure my copy.
I am sure that you hear this often, but I absolutely love your work, I find it so inspirational - especially your Goddess Wheel.
Thank you again for sending me the book so quickly.
Spring-tide blessings,
Michelle xx
This evening, despite being unable to manage a quiet moment with my headphones, feelings of stress drew me back to your beautiful merging of voice & music , and i decided to listen to the CD letting it fill the room for the first time. It was wondrous, so very soothing and refreshing for mind, body & spirit...i listened to it four or five times in succession, immersing myself fully in the flow of healing energies.
Thank you once again for this exceptionally restorative experience.
I dont have the words to express how uplifting and moving I found this wonderful guided journey.. your words connected deeply within my soul..my very core...thank you so much for sharing your amazing gifts :) xx
Pauline
Dear Wendy,
I have just completed the Sacred Pouch journey with Luna Moon Hare to meet The Goddess.
Meeting each aspect of the Goddess was a joy and their gifts real treasures. Thank You... More Than Words Can Say, for a Beautifully Crafted guided journey I will treasure anew each time I make it.
Blessed Be, by the Power of Three,
Jxxx
Hello Wendy,
Having ordered a copy of the "Sacred Pouch" CD as soon as you announced it was available, and receiving it so swiftly, i wanted to send you my heartfelt thanks for a truly uplifting experience when i sat down to listen to it for the first time last night.
From the outset, with the exquisite intermingling of voice and music, i was drawn into the magic of past, present & future so smoothly and easily, and able to immediately enter the flow of images evoked by your word-pictures. The ensuing visual and spiritual journey led to an extraordinarily mystical encounter, and one which i may return to and re-enter at any time or season, when in need of inner refreshment and healing.
Thank you.
With kindest thoughts,
Ann
Hi there Wendy,
just wanted to say a big thank you for the beautiful Fire goddess hanging. it is truly stunning. I am amazed at how quickly it came!! I purchased the Sacred creatures calender whilst i was in Glastonbury and was thrilled to see you have a website. You are a very talented lady. My hope is that over time i can collect all of the wall hangings to create a sanctuary of peace at my home. They are inspirational. Many thanks and all the best for 2012.
Liz
Dear Wendy, THANK YOU!
So quickly. All has arrived, beautifully wrapped and in top condition. I am totally thrilled with them all and that you sent me a card and signed the book! I am busy writing some of the cards now.
Thank you again. Carla, sending Brightest Blessings to you. xx
Hello Wendy,
I just wanted to let you know that the prints arrived safe and sound today and I am so pleased with them. For a long, long time I've been looking for, what for me, would be the perfect representation of the Horned God. Thanks to you, I've finally found him !!! Thank you so very, very much.
Also, another big thank you for your amazing book Luna Moon Hare. It's one of my most treasured books ever. I never thought I'd one day actually get the opportunity to tell you just how much I love it. There are no words to describe how moving and beautiful it is.
Now I've found your website I shall be a frequent visitor.
Again, thank you so much.
Love, Peace & Blessed Be
Kali x
Hi Wendy,
The calendar is wonderful, the pictures are lovely and it's just full of your passion, love and energy I love it and can't wait until the new year lol!
Love and blessings
Sarah xxx
Hi Wendy
I have just received my copy of your new 'Goddess Calendar'. I was thrilled it is as beautiful as I expected it would be. As the proud owner of 'Luna Moon Hare' I had high expectations and was not disappointed. I am so drawn to the beauty of your paintings they have an ethereal quality and I am mesmerized every time I look at them. They take you in and lead you on a journey to your inner self. Pure meditation in a picture. Really I don't have the words to fully describe how they make me feel but the closest I can come to it is that they fill me with wonder. Never stop painting it is part of your soul and journey and gives more pleasure than you will ever know.
My personal favourite is Hare Dreaming (I love your depiction of beautiful Hare) closely followed by Gaia's Winter Rest but of course they are all so beautiful!
Blessings
Perri x
Hi Wendy
Your package with your beautiful dolphin mother print arrived savely last Thursday. It now has pride of place above my altar, as you can see in the picture
love Nancy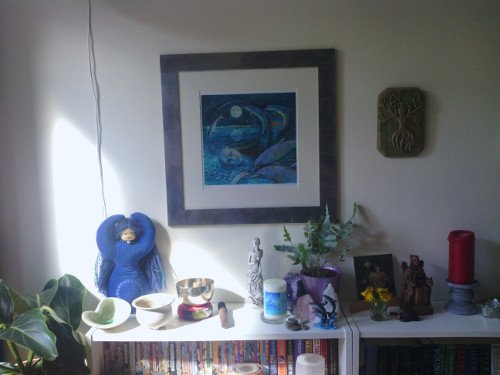 Dear Wendy
My amazing wall hanging has arrive and is hanging on the back of my living room door. Bridget looks amazing a true fire maiden. Thank you so much x s x
Dear Wendy,
Thank you so much for the Goddess Wheel (of the year, of life). It is such a wonderful idea, and the art work is beautiful. My wife loves it and could not image anything better. Moreover, my wife said the painting of Bridget was the best image ever that she has seen.
Also, you packed the Wheel in a secure way, and it arrived here in perfect shape. I appreciate that.
And also, another 'also', you included such a lovely card, with your thanks and blessings. How thoughtful.
We are so pleased and happy with your work.
I suspect we will give another look at your web site.
Kind Regards,
Mark & Iris, USA
Hi Wendy
'Luna Moon Hare' is both Wonderfully inspired and beautifully crafted...A truly Magical Journey through the Seasons Thank you for sharing your Gift with the World.
I look forward to reading this book to my Grandson when he is a little older, it is so important that these old wisdoms are passed down to future generations and the symbolism in your paintings speak volumes that words alone can only struggle to convey. I do hope that you are inspired to produce more books like this in the future, as this gifted combination of words and art work not only provide much pleasure (your cards also!) they help to Awaken the true Spirit of both this Beautiful Land and it's inhabitants.
Blessed Be
Pam
Hi Wendy,
The Moon Calender i ordered from you yesterday teatime has already arrived this lunchtime! It is so beautiful and thankyou for the Winter Solstice card too!!
Many blessings to you,
Sarah
Hello Wendy,
I received the wall hanging and the pictures yesterday. I just wanted to say how pleased I am with them. The wall hanging is absolutely gorgeous and is now proudly hanging on my bedroom door. The pictures are so beautiful and I intend to put them into frames and hang them round the house. I love your art work so much and it incorporates everything that I love about nature, animals and the goddess. Both my daughters, aged 5 and 1 love your work also and we've been studying your wall hanging and deciding between us which bit we like the best!
Thanks again
Catherine x
Hi Wendy, thank you for the quickness of your service. We received the book and cards yesterday and also your personally written card.
They are all beautiful, the cards, the book and everything.
Im finding it hard to describe how emotional it has made me in a good way though! The book is perfect for teaching my 6 year old the turning of the wheel and how the seasons and the earth work together and how the hare is the perfect medium to be understood by all ages.
Again, thank you and I'm sure I'll be back for more and will definitely recommend it to others in our group whom have children the same age as mine Im sure they will love it too.
Bright Blessings
Sharon xx
Keep doing what your doing because its working!
Dear Wendy,
Hello! I have just placed an order for some more of your divine artwork and just thought to get in touch and basically THANK YOU for the incredible gift, beauty and wisdom you share with the world through your art. I absolutely love it, and the energy of your work has made the energy of the Goddess more present in my house, its a real blessing. I also love the divine masculine images, more of them too please! :)
Bright blessings and love ~ Leara xxx
Hi Wendy,
Just wanted to let you know that the cards reached me safely, and that I adore them - they are even better 'in the flesh'! Thanks so much. I also have your 'Luna Moon Hare' book, which I think is one of the most beautiful books I have ever seen, so thanks, thanks, thanks for creating such an amazing book :)
Bright Blessings,
Mich
Hello Wendy,
I just wanted to thank you for the totally gorgeous Luna Moon Hare Calendar, which arrived safely yesterday. I can't wait till January to be able to hang it up!
(I love the Luna Moon Hare book - I use it as a display, sitting atop an old pine Kist, turning the pages to follow the seasons. It looks great beside a huge display of Tansy and Acer leaves just now...)
With love & blessings xx
Kind Regards
Kate
Dear Wendy,
Just to say how much I loved your 'Ever changing nature of the Goddess' set. Also your painting of the Lord is just how I see Him & your depiction of the Triple Goddess is wonderful. You have an incredible talent!
Bright Blessings,
Annie x
Hi Wendy
Thank you so much for the speedy delivery of my order and for the personal card included. What a lovely gesture.
The cards are really beautiful and to be treasured. What a talented lady you are.
Loving blessings
Teresa
Here's a photo showing how one customer has mounted the Goddess Sabbat set...thanks Les, they look great!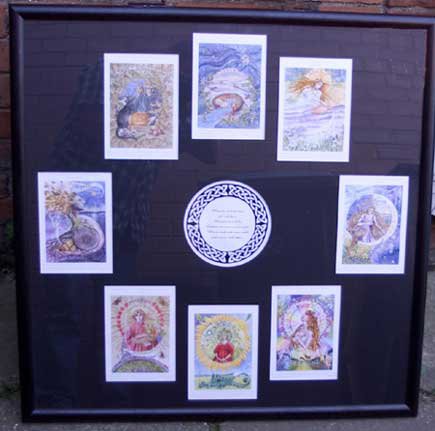 Hi Wendy
The print I ordered from you just two days ago has just arrived. I'm still tingling with the emotions that your paintings evoke in me.
As with Morgan Le Fay (who has been on my wall since the beginning of August), Merlin has now taken up residence, too.
I can't begin to tell you how excited and surprised I was when the postman handed it to me just now. Thank you so much for getting it to me so quickly.
I'm thrilled with it, as I knew I would be. Thank you, also, for the beautiful cards (and note) that you sent with the picture.
They will also be framed and positioned around my home, to further bring the magic alive in this house - although, it is ever-present in my heart.
I shall visit your website again very soon and I know I shall not be able to resist placing another order! Until then, love and blessings,
Becks
Wendy, thanks so very much for allowing us to enjoy your art work.. we just wanted to let you know that we received the print today in great shape..
it is more breathtaking in hand then as it is on your web site. we look forward to enjoying the energy and the warmth that this art will fill our home with...
we definitely will be seeking more of your art in the future as our budget allows.
thanks so very much
Hi Wendy
This order will complete my wheel of the year collection and I just wanted to let you know how much I enjoy your work. Your paintings hang above my altar, each one in turn as the seasons change, Hecate's still there at the moment.
I also wanted to thank you for your prompt service and friendly notes, its so unusual in this busy age.
Thanks again and Blessed Be
Louise
Dearest Wendy
Some weeks ago I got the four paintings I had ordered at your website.
Just to let you know that all of them arrived in perfect condition! You had packed them so caringly that not even the Spanish postmen could harm them!
Thanks so much for all the wonderful postcards you sent me too! I love them all! Your artwork is of breath-taking beauty and spreading such a beautiful energy! One can feel their strong presence shifting the energy of any room immediately when hung on the wall.
Wishing you the very best!
Lots of love Renate (Spain)
Dear Wendy
My hubby has recently sent for a set of your Goddess cards and one of your Altar frames.
I just wanted to say how thrilled I am with all of them. Its just what I've been looking for to complete my small sacred space.
Keep up the inspiring art.
Blessed Be
Yvonne
Here are some photos that Yvonne kindly sent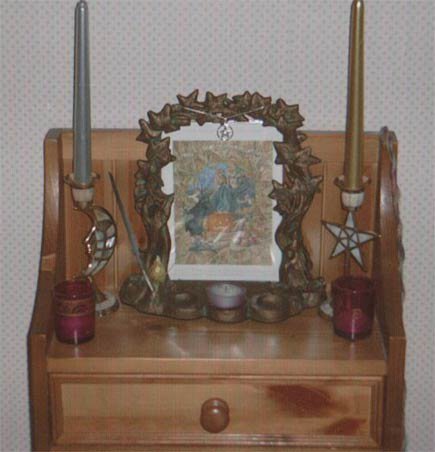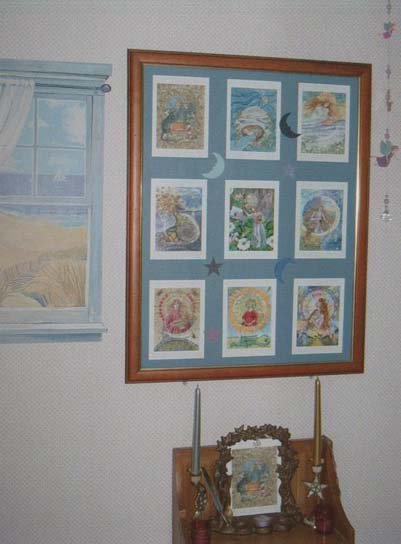 Hello again.
Just a quick note to say thank you for the card print and yes the altar arrived safely. I've enclosed a photo. I particularly love the faeries each side.
Thank you again
BB Helen