Goddess Blessings 2018 Calendar
Click image for enlargement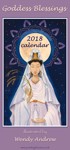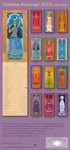 Here is my 2018 calendar! Its a different shape this year, just for a change! and very bright and colourful!
The pictures depict Goddess in Her many forms....ever changing as the wheel of the year turns and as She is known in countries around the world. A collection of my existing ever popular Folk Art Goddesses and new images of World Goddesses.
Each aspect of Goddess brings a special blessing.
I do hope that the calendar will brighten your days!
Size 150 x 320mm closed, 150 x 640mm when open